I'm not a morning person. I'll be the first one to admit this. The sound of an alarm clock is as excruciating as a knife and fork on a glass plate. And although the snooze button was my best friend, I had to tape a thumbtack to prevent myself from overusing that lifeline.
The truth is, my nightlife and entrepreneur careers took me into the wee hours of the night. Clients, parties, late night coding sessions made me a night owl, but the rest of the world did not follow my schedule. My mornings (afternoons) were slow, hazy and lacked in motivation. To be successful and productive at all hours of the day, I had to find a better solution than 3 cups of coffee.
Good Morning Bulletproof Coffee®
When I hung up my suit and tie to leave the nightlife industry, there was an initial detox period of 3 to 6 months where I had to regain balance. I picked up reading to maximize my free time. A lot of reading. During this time, I stumbled across Bulletproof Coffee® and an amazing person by the name of Dave Asprey. You can read about his story here. Bulletproof Coffee® isn't just about drinking a great cup of coffee, it's about elevating your mind, body and soul to be really awesome every day.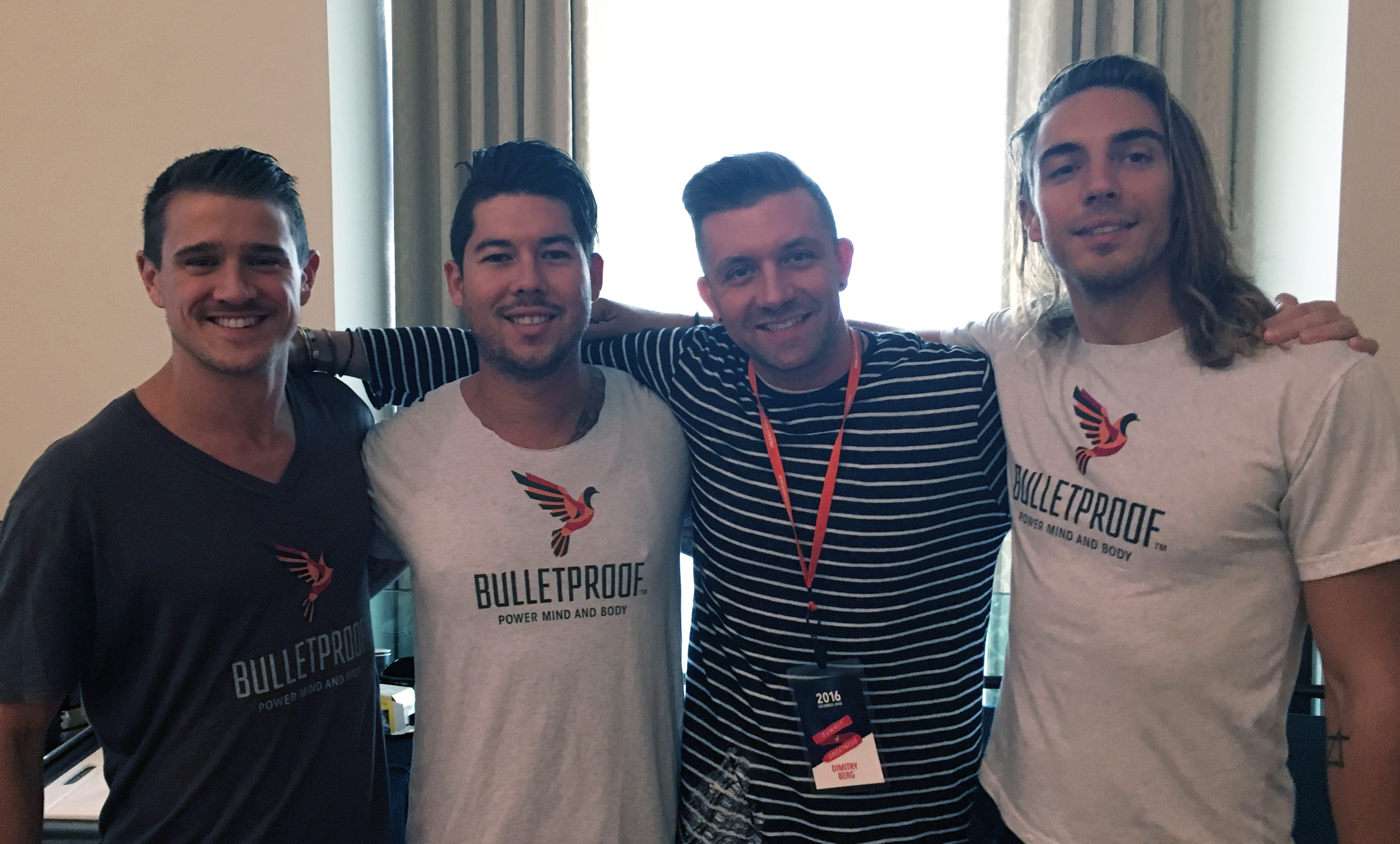 The Bulletproof Team at the 2016 Summit of Greatness in Columbus, OH
So What Is It?
Bulletproof Coffee® consists of Upgraded Coffee mixed with unsalted grass-fed butter and Brain Octane Oil. 3 simple ingredients that create a frothy and tasty jumpstart to your day. I drink this every day, but you don't have to. That's the beauty of this drink. You don't get the midday crash and you don't feel the typical caffeine withdrawals the following day. Yes that's right, you are no longer a slave to your brewer.
The Beans!
Ask any coffee connoisseur and they will tell you that it's all about the beans. How the beans are picked and processed can make the difference between 1 cup and 3 cups a day. But what they will not tell you is that most coffee beans are exposed to performance-robbing mold toxins (mycotoxins).
Butter In My Coffee?
I know your initial reaction, I had the same one. You put milk in your coffee, so why not butter? Here are the facts behind the nutritional value of grass-fed butter:
Cows eat grass not factory farm feed, they are biologically programmed to do so. Grass-fed cows are healthier than factory-farmed or grain-fed cows, and the butter they produce reflects their good health.
Grass-fed butter is higher than grain-fed butter in omega-3 fatty acids, CLA, beta-carotene, vitamin A, vitamin K, vitamin D, vitamin E, and antioxidants.
You can actually see the difference in the butter: grass-fed butter is a sunny yellow color while grain-fed/factory-farmed butter is almost white. The lack of color is a sign that the butter is coming from sick, nutrient-depleted cows.
More can be found here.
Super Charge Your Coffee
Brain Octane is probably my favorite part of this coffee drink. It's what allows you to feel that rush of energy without the crash. My mental clarity and focus are through the roof within 30 minutes. Here is the science behind Brain Octance:
Brain Octane Oil is a purified form of medium-chain triglyceride (MCT) oil. MCTs have carbon tails that come in various lengths, from C-6 to C-12. The shorter the tail, the faster your body can absorb the MCT and convert it to ketones, little molecules that can fuel your brain instead of glucose. Brain Octane is pure C-8 MCT – it has 18 times the C-8 of coconut oil.
Brain Octane and other MCTs bypass liver processing entirely, making them rapidly available. The same is not true for long-chain fatty acids. It's also not true for lauric acid (C-12), the main MCT in coconut oil. That's why you won't get the same rapid energy boost from imitations of Bulletproof Coffee that use coconut oil instead of Brain Octane. Don't get me wrong: coconut oil is very good for you, and it's a superb addition to the Bulletproof Diet. It's just not ideal for mixing into your coffee.
More can be found here.
The Recipe!
Now you can buy the beans already pre-ground but I like mine freshly ground at home so I order the whole beans. For grass-fed butter, I have found that Kerrygold Unsalted butter works well although there is some controversy about it being 100% grass-fed. There are also other brands of MCT oils out there but again, it's about quality control and how things are processed.
Brew 1 cup (8-12 oz.) of coffee using filtered water, just off the boil, with 2 1/2 heaping tablespoons freshly ground Bulletproof® Coffee Beans.
Add in 1-2 tablespoons of Brain Octane™ to the hot coffee (It's STRONG – start with 1 tsp. and work up over several days).
Add 1-2 tablespoons grass-fed, unsalted butter or ghee
Mix it all in a blender for 20-30 seconds until it is frothy like a foamy latte
Watch Dave Asprey do it.